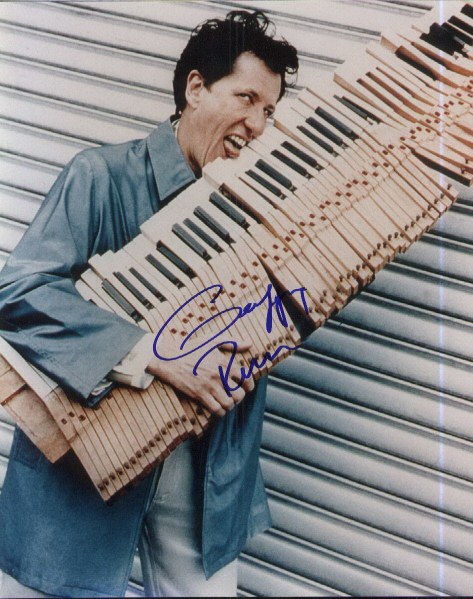 Before you get the vitals on the man himself, here's what makes him my all time fave....

I first saw Geoffrey Rush in Shine back in 1995 or 1996, I don't remember the exact date. You'll have to forgive me, I'm very old at 31. Anyway, I thought he was fabulous, but didn't give him much thought for a while Well, actually, a long while. I saw him again a few years back in a film called House on Haunted Hill. Just your typical generation X horror film, but there was something about him that made we want to see more, and know more. He's just incredible >insert long, heavy sigh here<. Many, many films later I am still hopelessly hooked.

The way the man moves is art. To me, he is a chameleon whose raw talent is evident in every gesture of his hands and every word that rolls off his tongue.

But anyway, I'm no writer. If I could only put into words the thoughts that are running a marathon inside my head as I try to write this, Shakespeare would seem a schoolboy. So I leave you with the facts...

A Brief Biography

Geoffrey Rush, a native of Queensland, Australia, was born July 6, 1951 in Toowoomba. He received his Arts degree from the University of Queensland and he subsequently began his theatre career at Brisbane's Queensland Theatre Company. He lived in Paris for two years where he studied at the Jacques Lecoq School of Mime. He returned to Australia where he shared the stage with his former roommate, Mel Gibson, in Waiting for Godot. His film debut was in 1981's Hoodwink. His big international break came when he appeared in 1996's Shine, (for which he won an Academy Award, A Golden Globe Award and an Australian Film Institute Award!) He currently resides with his wife, Jane Menelaus, and their two children, James & Angelica.

" If you want me to describe Geoffrey Rush in a nutshell: He is naughty, wicked, and brilliant. And I know that if he reads that quote, he'll find it a complete turn-on."
- Kate Winslet